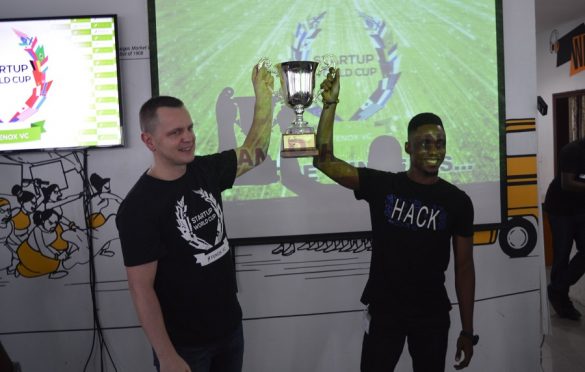 Publiseer Wins Nigeria's Regional Competition, Startup World Cup
Nigeria's digital publishing firm, Publiseer emerged the winner in the regional competition dubbed Startup World Cup. The event which held on Saturday, February 9, 2019, at Civic Hive in Lagos,  saw Publiseer beating nine other startups and earning the title, of regional champion.
Publiseer will join other regional winners from various countries, including Mauritius, South Africa, and Kenya, at the Grand Finale, which will be held in Silicon Valley by San-Francisco based venture capital firm, Fenox VC, with a $1 million dollar investment prize. Amongst the 10 startups that pitched at the Nigeria regional final were Natterbase, Edupoint, WellNewMe, Sabi.ai, Spleet, Afara Partners and FarmFunded.
The winner of the Nigeria Regional Competition was determined by a panel of judges that included Olusola Amusan, Founder at Coven Works, Emmanuel Adegboye, Entrepreneurship Center Manager at Andela, Brian Odhiambo, Associate Director at Novastar Ventures, and Dayo Koleowo, Principal Investment Officer at Microtraction.
In addition, the determining factors in picking the winner were based on the size of the market opportunity, if the product solves the problem of their target customer, traction, clear revenue model, strong distribution plan, team, and capital efficiency.
"We are humbled to emerge the winner of the Regional Competition, and we are excited to represent Nigeria at the grand finale in May. Every startup that competed was amazing and is making great impact and giant strides in various fields, and that's why we're humbled to come on top as the winner," says Chidi Nwaogu, Co-founder and CEO of Publiseer, who was recently shortlisted for the Yunus&Youth Global Fellowship Program for Social Entrepreneurs Class of 2019.
It is imperative to state that the South African and Mauritian finals were held in September and November 2018 respectively, while the Kenyan final will be held in March. The regional winners, including Publiseer, will represent their respective countries at Startup World Cup Grand Finale, which is set to take place on the Friday, May 17 in San Francisco, USA.
Publiseer is a digital publisher that helps African writers and musicians from low-income communities to distribute and monetise their creative works across over 400 digital stores in 100 countries, with just a single click, and at no charge. Recall that smepeaks announced Publiseer became profitable after eight months of inception.
The digital Publishing platform was listed in Modern Ghana's "List Of 10 African Innovations For January 2019". In addition, Publiseer has been accepted in several accelerators and incubators, such as Microsoft's Accelerate Labs, University of Cape Town's Venture Incubation Programme and Singularity University's Global Startup Program.