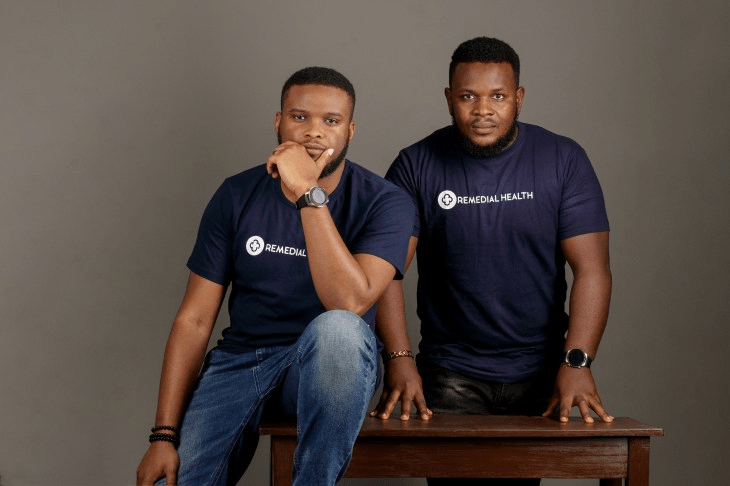 Samuel Okwuada and Victor Benjamin, Remedial Health Co-founders
Remedial Health Raises $12 Million to Revolutionize Nigeria's Pharmaceutical Sector, Enhance Healthcare Access
Nigerian startup Remedial Health, focused on digitizing pharmacies and streamlining the pharmaceutical value chain, has raised $12 million in Series A equity-debt funding.
The funding round was co-led by Fintech VC firm QED Investors and Ventures Platform, with participation from existing investors like Y Combinator, Tencent, and Gaingels.
Remedial Health's platform allows pharmacies and hospitals to order pharmaceutical products from reliable manufacturers and verified distributors, ensuring consistent pricing and eliminating the distribution of fake and substandard products that have caused preventable deaths in Nigeria and other parts of Africa. 
The startup plans to utilize the funding to deepen its operations in Nigeria, with $4 million of the investment allocated to scale inventory financing.
The company's main focus is expanding its reach in 34 states, particularly in rural areas where demand is growing. Currently serving over 5,000 pharmacies and hospitals, Remedial Health has seen impressive growth, with a 3X increase in client count since November last year. 
Its inventory financing has been a significant driver of growth, enabling clients to restock without upfront payments and leading to a 7X increase in revenues over the last 10 months.
The startup's B2B platform provides a range of services to its customers, including inventory management, accounting, financial reporting, and real-time market intelligence for manufacturers. Remedial Health's distribution hubs ensure timely delivery, with orders reaching customers within 24 hours. With the investment from QED Investors and Ventures Platform, the startup is well-positioned to further enhance the efficiency of the pharmaceutical value chain in Nigeria.
The success and rapid growth of Remedial Health have showcased the significant market gap that exists in the pharmaceutical sector in Nigeria. Gbenga Ajayi, Partner and Head of Africa at QED Investors, emphasized the startup's value in providing effective and holistic services to thousands of pharmacies across the country. He further expressed excitement about the embedded financial services opportunities within the vertical, which can provide payment solutions, embedded lending, and other fintech offerings to an underserved yet critical sector.
The innovative approach of Remedial Health has not only won the trust of thousands of pharmacies and hospitals but has also garnered attention from notable pharmaceutical manufacturers such as GSK, Pfizer, and AstraZeneca. By providing real-time market intelligence, the platform enables manufacturers to make informed decisions about production and distribution, further strengthening the pharmaceutical ecosystem.
With a strong network of distribution hubs and efficient last-mile delivery, Remedial Health ensures that orders reach their customers within 24 hours, even in remote regions. The seamless integration of inventory financing has been a game-changer for their clients, empowering them to grow their businesses, open additional branches, and improve financial stability.
As the Nigerian startup continues to scale its operations, it remains dedicated to its mission of transforming the pharmaceutical value chain and bolstering the accessibility and availability of quality medicines across the country. With the support of QED Investors, Ventures Platform, and its existing investors, Remedial Health is well-positioned to lead the charge in enhancing Nigeria's healthcare ecosystem.
As the digital transformation of the pharmaceutical industry gains momentum in Nigeria, Remedial Health stands at the forefront, demonstrating how innovative technology and financial solutions can drive positive change and empower businesses to thrive in the healthcare sector. 
The company's vision and dedication to creating an efficient and reliable pharmaceutical ecosystem promise to elevate Nigeria's healthcare landscape and contribute to the country's long-term economic growth and prosperity.