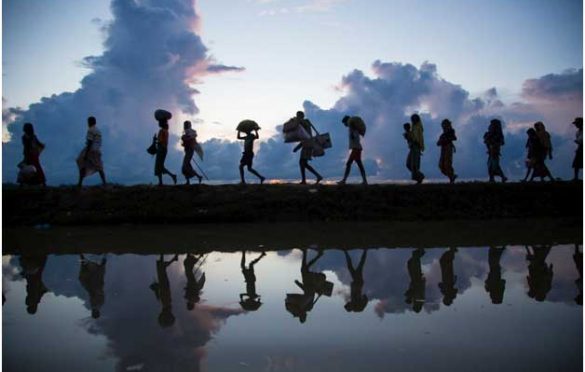 Got a solution for migrants taking dangerous routes? Apply to the Seedstars Migration Entrepreneurship Prize
The Seedstars Migration Entrepreneurship Prize seeks the most promising seed-stage startups working to alleviate the pressure for people to take dangerous routes leaving their homes.
For more than a decade, hundreds of thousands of individuals have either lost their lives or been displaced in the quest to flee the challenges of their home countries for greener pastures. However, the mission often proves more dangerous than anticipated.
An excerpt from a report by the Telegraph in 2018 reveals a shocking stat.
More than 1,600 people have died or gone missing this year, the UNHCR said in a new report, with the rate of fatalities rising sharply, particularly in the Mediterranean Sea. (Source: The Telegraph)
Thus, two organisations have come together to develop the Migration Entrepreneurship Prize; the Swiss Federal Department of Foreign Affairs and its Human Security Division (HSD) and Seedstars, a Swiss-based private group of companies with the mission to impact people's lives in emerging markets through technology and entrepreneurship.
---
Read Also: Seedstars Summit 2020 — 10 African businesses to compete for $500,000 on global stage 
---
Eligibility Criteria
Before considering applying to the Seedstars Migration Entrepreneurship Prize, you must make sure that your venture matches all three of the eligibility criteria.
Geographic Location: your venture must tackle solutions in MENA or Africa and can be aimed for society at large thus aimed at migrants and the local population. It can be implemented in the origin, host and transitory countries. Find the full list of countries at the bottom of this page.

Key Themes: your venture must work in one of the following solutions: labour migration, economic migration, migratory fluxes, migration alleviation, migration relief, refugees, movement of people, emigration, immigration, human dignity, economic livelihoods, social development, human rights, dignity, women's empowerment, social business, leveraging private sector solutions for social change, diaspora engagement, sustainable development.

Stage of Startup: your venture must be a seed-stage startup with a minimum viable product (MVP) and initial user traction.
List of Eligible Countries
[MENA — Middle East and North Africa]
Tunisia, Algeria, Morocco, Libya, Egypt, Bahrain, Iraq, Jordan, Kuwait, Lebanon, Israel, Oman, Palestinian Territories, Qatar, Saudi Arabia, Turkey, UAE.
 [Sub-Saharan Africa]
Ivory Coast, Gambia, Ghana, Guinea-Bissau, Liberia, Mali, Mauritania, Nigeria, Senegal, Sierra, Leone, Togo, Ethiopia, Somalia.
Application process and timeline
January 31 — application closes and shortlisting begins

February 10, 2020 — Shortlisted candidates will be pre-selected and called in for interviews on  in order to advance to the next stage

February 20, 2020 — Finalists Announcement will hold and 10 startups will be invited to participate in the Investment Readiness Program and 5 of them will attend the Seedstars Summit

April 3, 2020 — The Global Seedstars Summit takes place and the 5 startups will join a 3-day bootcamp with mentors and investors at the Seedstars Summit. Moreover, one final global winner will be selected

May 1, 2020 — The Investment Readiness Programme begins and the 10 finalists will be invited to participate in a customisable educational program that will prepare them to raise funds
How to apply
Until 31 January, startups matching the application criteria can submit their candidacy through the website.
---
Featured image credit: Office of the UN High Commissioner for Refugees (UNOHCR) / IPSNews
---
Never miss an important story during the week. Subscribe to smepeaks weekly newsletter now.
---
Got a story worth telling? Shoot us an email with SUBJECT — "Story Worth Telling" — to [email protected].