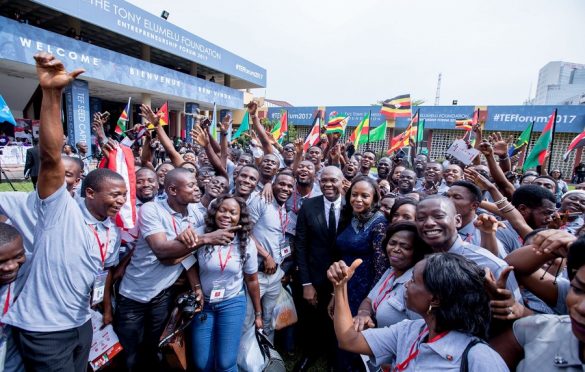 TEF has finally announced that its entrepreneuship programme is no longer business as usual
Running for the sixth consecutive season, the Tony Elumelu Foundation Entrepreneurship Programme has become one of the most remarkable philanthropic initiatives across the African continent.
While the application process has remained the same for years–applicants are screened, 1000 selected and awarded grants–the foundation is shaking up the process with changes that makes the TEF entrepreneurship programme look quite tougher.
---
Read Also: Why becoming the next Tony Elumelu Entrepreneur might be tougher than ever 
---
This time, unlike before, applicants get immediate feedback, and successful applications move on to the next stage of training and mentorship. Those who scale through training tasks are invited to pitch their ideas before judges in their various countries.
Final beneficiaries will emerge after the pitching rounds.
Below is an official press statement received from the foundation:
We are excited to announce that the Tony Elumelu Foundation has made strategic changes to the TEF Entrepreneurship Programme Cycle. These changes, which took effect from January 1, 2020, will provide more value across the continent and achieve our mandate to transform the African continent through entrepreneurship.
This is one of the announcements heralding the 10th year anniversary of the Tony Elumelu Foundation. 
What is different about the TEF Entrepreneurship Programme? 
Leveraging technology, applicants will now receive instant feedback on their application – this feedback will let them know if they go on to the next stage
Those selected for the next stage will go on to receive business training and if they progress in their training tasks, they will receive mentorship tailored to their business needs

A pitching competition will be organized in June to determine the final beneficiaries

The final beneficiaries who will receive the $5,000 seed capital will be announced in Q3 2020.

 Seed capital disbursements will follow after due diligence.
Here are other details of the TEF entrepreneurship programme changes. This official announcement corroborates our recent story on why becoming the next Tony Elumelu Entrepreneur could be tougher than ever.
Isn't 2020 looking promising already? Did you anticipate these changes? Let's know your thoughts in the comment section.
---
Featured Image Credit:  Tony Elumelu Foundation
---
Got a story worth telling? Shoot us an email with SUBJECT — "Story Worth Telling" — to [email protected].