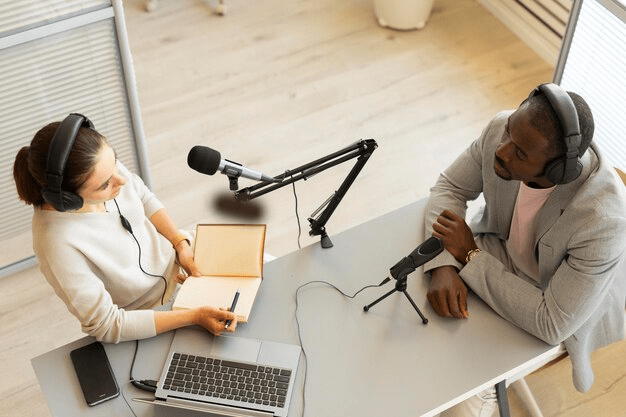 Business Podcast
The Top 10 Business Podcasts You Should Listen to
In today's fast-paced business world, staying up-to-date with the latest trends, insights, and success stories is crucial for entrepreneurs and professionals alike. 
Business podcasts have emerged as a popular medium to learn from industry experts, gain inspiration, and enhance your business acumen. Whether you're looking for practical tips, strategic advice, or thought-provoking discussions, here are the top 10 business podcasts you should tune into:
1. "The Tim Ferriss Show":
Hosted by Tim Ferriss, author and entrepreneur, this podcast features interviews with world-class performers across various fields. Tim explores their routines, strategies, and tools for success, making it an excellent resource for personal and professional growth.
2. "How I Built This":
Guy Raz, an award-winning journalist, dives into the stories behind some of the world's most successful companies and startups. This NPR podcast reveals the challenges, triumphs, and lessons learned by entrepreneurs as they built their ventures from scratch.
3. "Masters of Scale":
Hosted by LinkedIn co-founder Reid Hoffman, this podcast delves into the strategies and experiences of successful entrepreneurs. Reid's conversations with industry leaders provide valuable insights on scaling businesses and navigating challenges along the way.
4. "HBR IdeaCast":
Harvard Business Review's IdeaCast brings you interviews with leading thinkers in business and management. From leadership and innovation to strategy and organizational culture, this podcast covers a wide range of topics to help you stay ahead in the business world.
5. "StartUp Podcast":
Produced by Gimlet Media, StartUp Podcast takes you behind the scenes of starting a business. It offers an authentic look at the highs and lows of entrepreneurship, including fundraising, product development, and team dynamics.
6. "The GaryVee Audio Experience":
Gary Vaynerchuk, a renowned entrepreneur and motivational speaker, shares his insights on marketing, social media, and building a personal brand. His energetic and no-nonsense style makes this podcast an engaging resource for aspiring entrepreneurs.
7. "The Tony Robbins Podcast":
Tony Robbins, a life and business strategist, hosts this podcast to help listeners unleash their potential. With interviews featuring thought leaders and experts, Tony provides practical advice on mastering mindset, productivity, and achieving success.
8. "The Indie Hackers Podcast":
Indie Hackers explores the stories of independent entrepreneurs who have built profitable online businesses. The podcast dives deep into their strategies, challenges, and tactics, making it a valuable resource for aspiring solo founders.
9. "The Smart Passive Income Online Business and Blogging Podcast":
Hosted by Pat Flynn, this podcast offers insights into generating passive income and building online businesses. Pat shares his own experiences and interviews successful online entrepreneurs, providing actionable tips for listeners.
10. "The Dave Ramsey Show":
Dave Ramsey, a personal finance expert, helps listeners with financial advice for both personal and business matters. His show covers topics such as budgeting, debt management, and entrepreneurial finance, making it a valuable resource for business owners.
Conclusion
Podcasts have become an invaluable resource for entrepreneurs and professionals seeking inspiration, insights, and practical advice. By tuning into the top 10 business podcasts mentioned above, you can gain valuable knowledge, learn from industry experts, and stay updated with the latest trends in the business world. So plug in your earphones, hit play, and embark on a journey of continuous learning and growth. Happy listening!