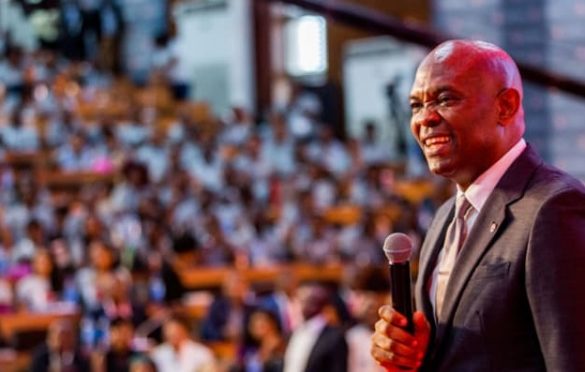 Why becoming the next Tony Elumelu Entrepreneur might be tougher than ever
"The cost price of 50 mangoes is equal to the selling price of 40 mangoes. What is the percentage profit"? –– such questions and more would you come across while applying for the Tony Elumelu Entrepreneurship Foundation Programme (TEFEP, this year. It's not to test your intelligence. It's to create a sterner application process. In any case, how prepared are you?
---
The Tony Elumelu Foundation Entrepreneurship Programme (TEFEP) has opened up its portal once again to receive applications from African entrepreneurs. TEFEP presents an opportunity to win $5,000 in grant and other related business support services. This will be the 6th cohort.
Launched in 2015, TEF Entrepreneurship Programme has become globally renowned as the largest African philanthropic initiative with the mandate to invest $100 million in 10,000 African entrepreneurs over a period of 10 years, while contributing immensely to the economic growth of the continent.
With over 500,000 applications since inception, the grant is getting only more challenging and interested entrepreneurs will obviously need to up their games for a chance to make the cut this year edition.  And this time around, the foundation itself has made things a little more 'interesting'.
First, questions unlike before…
"The cost price of 50 mangoes is equal to the selling price of 40 mangoes. What is the percentage profit"

Answering such questions might not be as challenging for you, but even more complex ones are lined up beyond the login screen. Considering that such "arithmetic questions"  didn't surface in past years, the new approach to the tightened application process is somewhat understandable. Previously rejected applicants are making solid comebacks and new ones are fighting their way through in optimism. Obviously, the numbers aren't shrinking anytime soon.
For what it's worth, let's quickly backtrack to 2015 when it all began.
What started as the dream of one man…
Since 2015 when the foundation first announced its intent, entrepreneurs across the African continent have been queuing to benefit from this opportunity.  The waitlist has rapidly grown from a few ten thousand to hundreds of thousands like this:
January 1, 2015, the TEF application opened for the first time to innovative businesses across Africa till March 1, the same year. Only 20,000 entrepreneurs applied, and 1,000 were picked.

In 2016, about 40,000 eager businesses joined the application train giving a 100% increase. As usual, only 1,000 were got the entry permit.

2017 came and the application volume had a 125% upshoot with 90,000 applicants. Apparently, this "huge number" wasn't going to convince TEF to shit grounds from selecting only the 1,000.

In 2018, and for the very first time, a six-figure application number was reached — which stood at a little over 151,000 (67.7% increase). Although the tradition of selecting only 1,000 was retained, a 'good twist' enabled another set of (hundreds of) entrepreneurs make the cut.

Last year (2019), applications peaked at 216,000 (43% above the previous year), with an increase to 42% female representation. The best part, however, was when the foundation decided to complement the huge turnout with a higher selection. This time, additional 2,050 entrepreneurs were enlisted, bringing the total number of businesses that made the cut to 3,050.
Considering the 980% growth in the number of applications from only 20,000 (in 2015) entrepreneurs to 216,000 in 2019, little wonder the new application process automatically conditions entrepreneurs to wear the big hat of a mathematician, little one of a psychologist and you can throw the cape of emotional intelligence somewhere in-between.
In a nutshell, the race to getting $5,000 free cash is getting fiercer and the process, sterner. But there are a few things that could help you.
How well do you know your business or TEF goals?
While the TEFEP remains a Pan-African programme open to business ideas from 54 African countries, it's imperative that interested applicants take out time to fully understand the nitty-gritty of their business landscape before veering off to apply.  Having an already mapped out business plan might be helpful. 
---
Also Read: Business Plan Writing: All the Key Elements You Need
---
It is imperative to note that beneficiaries will be selected based on various criteria. For instance, "innovative ideas and unique approach to local problems earn strong points for applicants to scale through the tough process" a Tony Elumelu Entrepreneur once told smepeaks.
Subsequent conversations we've had with a couple of other TEF Alumni reveals the need to have a thorough understanding of the programme's objective–which largely influences its thorough selection process–and prove insightful about your space.
You surely wouldn't want to pass off as someone who hasn't done the needful market research.
---
Read Also: TEFEP — Beyond vying for $5,000, knowing these may give you an edge
---
Those whose businesses align with the goals of the programme — which is to create millions of jobs and revenue required for sustainable development by projecting the private sector as the growth engine for Africa and also emphasising on the importance of creating social and economic wealth — do have a competitive advantage as well.
Benefits:
Successful applicants will join over 9,000 beneficiaries from 54 African Countries. The TEF 2020 programme covers: 
Business Training

Mentorship 

A non-refundable $5,000 capital

Global networking opportunities
Eligibility
TEF Entrepreneurship Programme 2020 is open to all entrepreneurs across Africa. Whether or not you have a registered business, corporate bank account or business plan. Idea stage businesses are also encouraged to apply. However, there are five core criteria by which all applications will be judged: 
– Feasibility of the business idea
– Market Opportunity: knowledge and understanding of the market, customers and competitors for their idea/business
– Financial Understanding: understanding of the basic financial requirements of running a business, costs and revenues
– Scalability: demonstrates the potential for replication and growth of their product or service to create jobs and wealth
– Leadership Potential and Entrepreneurial Skills: demonstrate leadership potential, capable of attracting people, customers and resources.
How to apply
You can get started via the online registration portal.  Applications are open until Sunday, March 1, 2020.
---
Never miss an important story during the week. Subscribe to smepeaks weekly newsletter now.
---
Got a story worth telling? Shoot us an email with SUBJECT — "Story Worth Telling" — to [email protected].