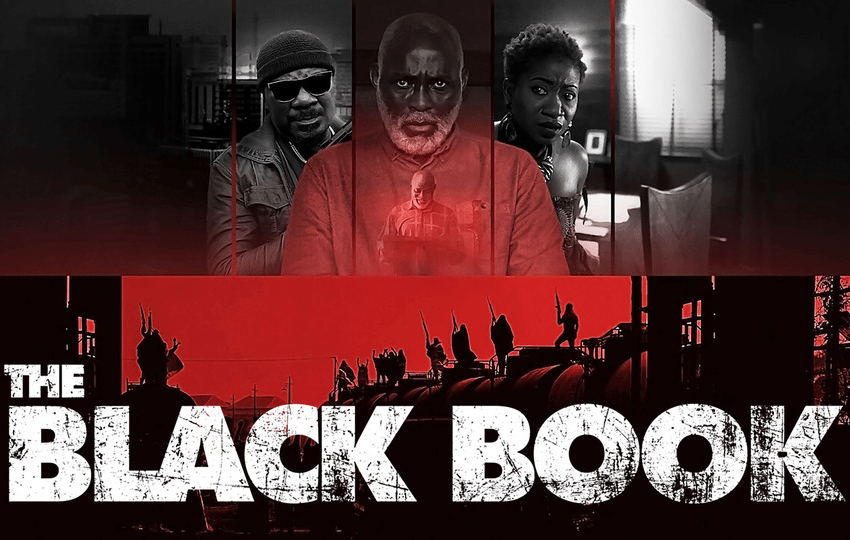 The Black Book
Must watch or pass: What I think of The Black Book from a business perspective
When it comes to streaming platforms, the competition for viewership is fierce, and in this race, the Nigerian movie 'The Black Book' gained top place.
The 2023 crime thriller film directed by Editi Effiong, has captured global attention. With a budget of $1 million, the movie is one of the most expensive Nigerian films which topped the Netflix charts, garnering over 70 million views since its premiere on Friday, September 22, 2023. But the question remains: is The Black Book worth your time from a business perspective?
The business behind the box office success
The Black Book stands out not just for its gripping storyline but also for its unique funding model.
It received financial backing from Nigeria's tech moguls, including influential figures like Gbenga Abgoola, co-founder of fintech unicorn Flutterwave, Odunayo Eweniyi of Piggyvest, Kola Oyeneyin, Ezra Olubi, co-founder of Paystack, Kola Aina, founding partner at Ventures Partner, and Olumide Soyombo, co-founder of Blue Chip Technologies. 
This fusion of entertainment and entrepreneurship highlights a trend where tech entrepreneurs are diversifying their investments and actively contributing to Nigeria's entertainment industry. 
This move is not merely financial; it represents a strategic alignment between tech giants and the creative sector, emphasizing the potential synergy between technology and entertainment.
These entrepreneurs bring their expertise, network, and knowledge of digital platforms, enriching the filmmaking process.
This amalgamation leads to the production of content that resonates globally, leveraging digital platforms and social media to maximize reach.
The movie's commendable global success, especially in countries like South Korea and South America, showcases Nigeria's potential as a content powerhouse on streaming platforms.
Audiences worldwide get a glimpse into Nigerian narratives, fostering a deeper understanding of the country's rich cultural heritage.
This mutual exchange paves the way for more international collaborations, showcasing Nigeria's diverse talent pool to the world.
Plot and performance: A balanced act
The storyline revolves around Paul Edima (played by Richard Mofe-Damijo), a reformed hitman turned deacon, who is forced back into the criminal underworld to avenge the death of his son. 
The film expertly explores the dark secrets of corruption, power struggles, and the lengths one man will go to seek justice. Richard Mofe-Damijo's portrayal of Paul Edima is nothing short of stellar.
 His nuanced performance adds depth to the character, making the audience empathize with his journey from grief to vengeance.
Cinematic brilliance and technical expertise
The Black Book excels in its technical aspects. The cinematography is top-notch, capturing the essence of each scene with precision.
The action sequences, including stunts, shotgun duels, bomb blasts, and vehicle chases, are skillfully choreographed, albeit with a touch of exaggeration.
The movie manages to balance intense action with emotional depth, ensuring that the viewers remain engaged throughout.
Realism vs. dramatic appeal
While the movie's plot tackles corruption within the political and law enforcement systems, there are instances where realism takes a back seat to dramatic flair.
Some scenes, particularly the numerous shootouts and gang confrontations, might come across as exaggerated.
However, this cinematic choice, though intense, doesn't detract significantly from the overall narrative.
Final verdict
Economic implications and industry growth
The financial infusion from tech entrepreneurs into the entertainment sector carries broader economic implications.
It stimulates economic growth by generating employment opportunities, supporting local talent, and boosting ancillary industries such as hospitality and tourism. 
Additionally, the success of The Black Book acts as a catalyst, attracting more investors, both domestic and international, to Nigeria's thriving entertainment industry.
This influx of investments contributes significantly to the nation's economy, establishing the entertainment sector as a vital economic powerhouse.
Entrepreneurial branding and reputation
Tech moguls' involvement in supporting a blockbuster film like The Black Book enhances their personal and professional branding. It showcases their commitment to cultural enrichment and community development. 
This positive association positions them as visionary entrepreneurs with a keen eye for diverse investment opportunities.
Moreover, their contribution strengthens the bridge between business success and societal impact, aligning their brands with social and cultural progress.
Potential for future collaborations
The success story of The Black Book opens the door for future collaborations between tech entrepreneurs and the entertainment industry.
As these collaborations yield fruitful results, more entrepreneurs might explore similar partnerships, leading to a continuous influx of fresh ideas, resources, and technological innovations. 
This symbiotic relationship between technology and entertainment could pave the way for a new era of immersive, tech-enhanced cinematic experiences, shaping the future landscape of both industries.
So, whether you are a business enthusiast intrigued by the film's financial backing or a cinema lover captivated by its intense narrative, this movie is a worthwhile addition to your watchlist.
---
Got an interesting scoop or news tip? Shoot an email with the subject "story worth telling" to [email protected]