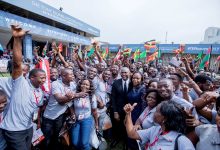 TEF to Host a Forum of 5,000 African Entrepreneurs This October
The fourth edition of the Tony Elumelu Entrepreneurship Forum (TEF) is coming up in Lagos, Nigeria this October.
About 5,000 entrepreneurs from across Africa are expected to converge for this event which is arguably, Africa's largest entrepreneurial meeting.
Thursday, October 25, 2018 has been set aside for the annual entrepreneurship forum. The event would see a sizeable number of upcoming entrepreneurs from across the continent– most of who are beneficiaries of the foundation.
TEF, the largest African philanthropic initiative is a $100 million entrepreneurship support programme set to identify and empower 10,000 African entrepreneurs over a period of 10 years.
Annually, the foundation selects about 1,000 entrepreneurs from different parts of Africa, and they are made to undergo a 12-week intensive online training and mentorship programme which will see them earn up to $10,000 in seed capital.
"Africa's economic well-being is driven by entrepreneurs; female and male, large and small – they are the engines of our continent's transformation. We will be championing and celebrating them," Tony Elumelu, founder TEF
This year, 1,250 entrepreneurs will be selected as a result of the partnership of TEF with the International Committees of the Red Cross, United Nations Development Programme (UNDP) and Indorama.
The attendants at this year's forum will meet global investors, leaders from the African public and private sectors as well as developmental organisations.
TEF on an annual basis invites top figures from the world of business and politics to inspire young African entrepreneurs. In line with the foundation's track record, President Macron of France recently visited Nigeria to interact with young entrepreneurs shaping the African business ecosystem.
Organisers of the event revealed that this year's Forum will include an interactive session with President Uhuru Kenyatta of Kenya and President Nana Akufo-Addo of Ghana.
It is worthy to mention that, also in the forum, TEFConnect, the world's largest digital platform for African entrepreneurs, dedicated to connecting African entrepreneurs and the entrepreneurship ecosystem will be launched.
---
Featured image: globalnewsnig